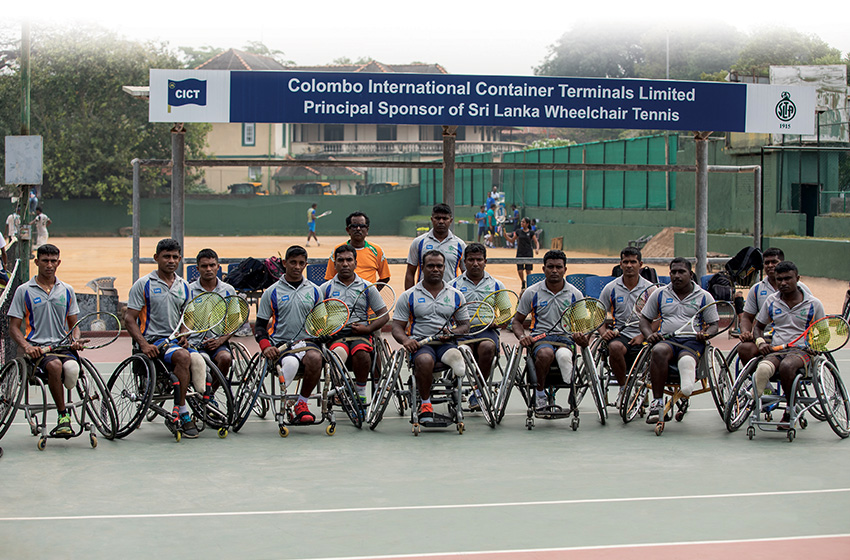 Corporal Ranaweera Arachilage Suresh Rasantha Ranaweera & The Sri Lanka Wheelchair Tennis Team
Fitness & Sports is very proud to have as our cover feature Corporal Ranaweera from the Sri Lanka Army who has defended our Motherland with bravery and honour. This brave young man is now doing the country proud in the international sporting arena. In his sport of wheelchair tennis he is ranked 68 in the world! Ranaweera's story is one of pure guts and determination. It is about having a dream and fiercely pursuing it so it may come true no matter what the odds are.
Fitness & Sports: Please tell us about yourself and your journey in tennis and your achievements?
Corporal Ranaweera: In 2003 I joined the Sri Lanka Army, Gajaba Regiment. After completing 3 months of training I went to the battlefront. During the war I lost my leg in a landmine. I went to the Ranaviru Sevana Rehabilitation Centre. After my rehabilitation I took up sports. I did wheelchair basketball, archery, badminton, table tennis and marathon running. I ran from Kurunegela to Warakapola which is about 37 km. I won medals in these sports but I had a dream to travel abroad. My mentor Major Dissanayake then sent me to the Sri Lanka Tennis Association (SLTA) in March 2011. This was the beginning of my tennis career. In 2012 I went to Thailand and Malaysia and won medals in both Singles and Doubles. In 2015 I went to the Wheelchair Tennis World Cup in Japan. Sri Lanka came 8th place and we beat Poland, Hungary, and Switzerland. I won the Thailand Open in October 2017. This was my best achievement. Before this tournament I was ranked 92 in the world. After winning the tournament my world ranking is 68. In Sri Lanka I am ranked number 1.
F&S: How did you adapt to the sport of competitive tennis?
CR: I wanted to excel in tennis. I put my heart and soul into developing my game. I live in Pasyala and I leave home at 3.30am to be in the SLTA courts at 6.30am. I practice on my service at this time. It is determination and hard work that enabled me to take up the sport and improve my game.
F&S: Describe how the training regimen you underwent in the Sri Lanka Army helps you with the fitness and mental strength required to play competitive tennis?
CR: A soldier is different from a civilian because a soldier has to withstand a lot of pressure both mentally and physically. This toughness enables me to be competitive in tennis because when you compete at the highest level in sport you have to be tough in mind and body. This toughness is part and parcel of the character of a soldier. When I play tournaments I don't worry about losing. I am not concerned about the ranking of my opponent. I step onto the court and do what I have to do. For me all players are equal and it is up to me to go and win the match.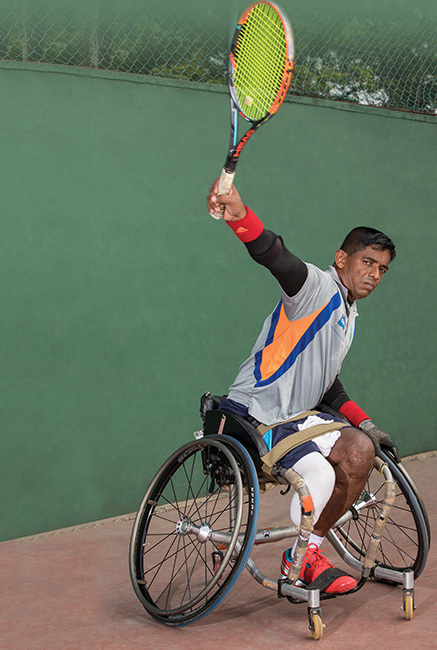 F&S: Describe your weekly training routine?
CR: We train Monday to Friday from 8.30am till 12.30pm. From 8.30am till 9.30am we do physical training and work on our mobility. Depending on the availability of courts we play matches with each other while some practice hitting balls with our coach Mr. Jagath Welikala.
F&S: So far, what is the best moment in your tennis career?
CR: Winning the Thai Open in October 2017 was the best moment in my tennis career so far. In this tournament I beat the player who is ranked 22 in the world. This was a huge achievement for me.
F&S: Who do you wish to appreciate that have helped you get to where you are today?
CR: I first want to thank my wife and family for supporting me since the day I got injured. My coach Mr. Jagath Welikala for coaching and helping me become the player I am today. Colonel Shiran Abeysekera for his help and guidance. Mr. Aad Zwan the tennis coach from Holland who comes twice a year to coach us. The SLTA President Mr. Iqbal Bin Issac for his support and encouragement.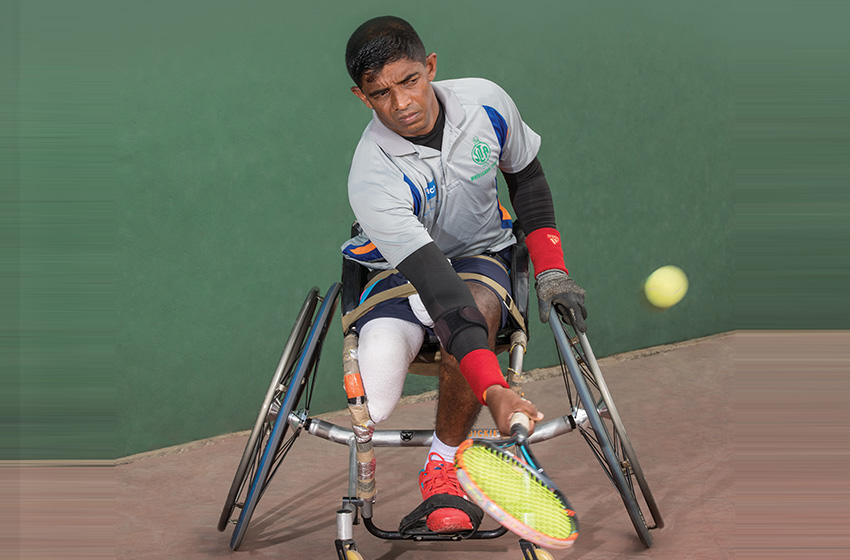 F&S: What are your goals for the future?
CR: To win the 3 tournaments in February this year. I want to win a medal at the Asian Games to be held in India in 2018. And to win a medal at the 2020 Olympic Games.
F&S: Words of advice you would like to impart?
CR: In our sport, all the players are differently abled. So the individuals must be focused and determined. I always wanted to be number 1 in Sri Lanka even though I was the last player to join this group. I wrote this goal on paper and pasted it on all the walls in my house. Through my determination and hard work I achieved this and I am ranked number 1 today in the sport of wheelchair tennis in Sri Lanka. I watch a lot of matches on the internet as well as work very hard on improving my game. This is the way to succeed in this sport. Determination and focus will help anybody achieve their goals in life.
Fitness & Sports: Tell us about your tennis background and how you came to be the Head Coach of The Sri Lanka Wheelchair Tennis Association?
agath Welikala: I have been a tennis coach for the last 30 years and I have trained junior players at different levels. For the last 15 years I have been working with the diffrenly abled soldiers as the wheelchair tennis coach. The International Tennis Federation sent an official to Sri Lanka to start wheelchair tennis.They were looking for a coach and by chance I happened to be available that day. They gave me a 1 week training course in Colombo and upon completion of the course I began to coach the Sri Lanka Wheelchair Tennis Team.
F&S: Up to date what is the highlight in your career as coach of the Sri Lanka Wheelchair Tennis Team?
JW: The highlight of my career as the coach of the Sri Lanka Wheelchair Tennis Team has been at the World Cups when we beat countries like Germany, USA, Canada, Spain, Israel, Morocco and all the top tennis playing nations. From 2008 onwards we have been beating all the top countries.
F&S: What coaching techniques do you use to teach the soldiers that come as beginners in tennis?
JW: The techniques are different to what would be used to coach able bodied tennis players because in wheelchair tennis the ball is played after 2 bounces. After the second bounce the ball is far below the net, so the strokes played have to be different. The wheelchair tennis player has to put a lot more spin to play the stroke compared to the 1 bounce game of tennis.

We train to get accustomed to this version of the game accordingly. We get a Dutch coach who comes twice a year. We sit down together and work out a training plan for the year.
F&S: How has coaching the Sri Lanka Wheelchair Tennis team changed your life?
JW: This opportunity has changed my life completely. The most important thing for me is that through tennis I have helped change the lives of these soldiers who have made great sacrifices for our country. Through tennis they have made great progress in their lives. This is very rewarding for me.

Before I coached the Sri Lanka Wheelchair Tennis Team nobody knew me outside of Sri Lanka. But now everybody in the tennis world knows who I am. I have been in the International Tennis Federation Wheelchair Commission Coaches Panel which is the highest achievement a tennis coach can get, which is to be an advisor to the International Tennis Federation.
F&S: What are your future goals?
JW: Our next goal is to win a medal in the Asian Games in Jakarta this year. In 2020 we will try to win a medal in the Olympics. With our dedication and hard work, we can achieve these goals.
Fitness & Sports: What is the impact that you see wheelchair tennis has had on the lives of these differently abled persons?
Colonel Abeysekera: Differently abled persons at first may think that life is just fading or that they cannot reach their aspirations but wheelchair tennis has proved this is not the case. These diffrently abled persons have achieved great heights and are continuously striving to keep achieving greatness. Today Sri Lanka's highest ranking international tennis player is from the Sri Lanka Wheelchair Tennis Team. These differently abled players have brought glory and success by winning major titles such as the recently won Thai Open Singles & Flanders Mens Singles in Belgium in 2017. All these players' lives have been changed and now they have hope and clear aspirations like everybody else. Today Sri Lanka has 17 Internationaly ranked players who have beaten the world's top 20 players and every one of them is from the Wheelchair Tennis Team, displaying the great potential our team has for future success.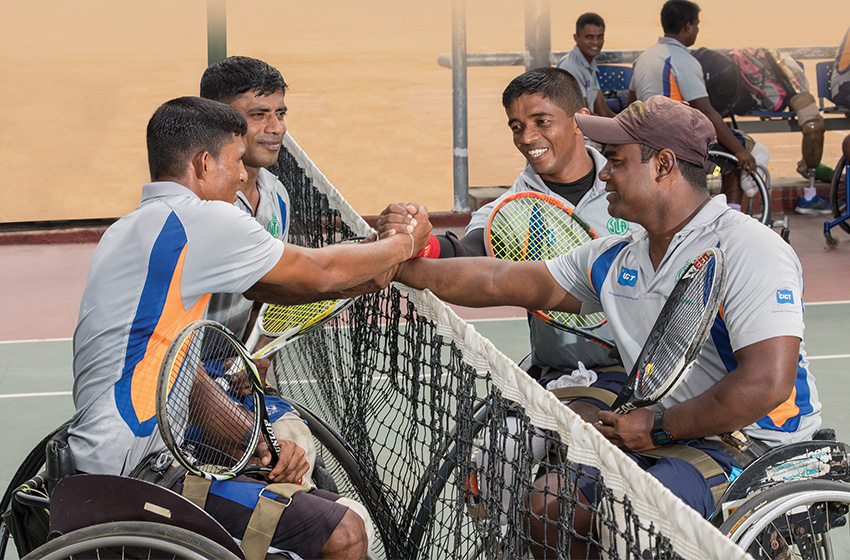 F&S: What is your opinion on the role fitness plays in achieving success in sports?
Colonel Abeysekera: Fitness is the prime engine for sports where you need to keep healthy. A balanced structure is vital for any sports person. To be successful in sports, a very high fitness standard is key. Fitness plays a huge role in wheelchair tennis where the athletes must have muscle endurance, muscle coordination, good reflexes, agility amongst other fitness attributes. Mental fitness is a very important aspect of overall fitness. A strong mind is essential to achieving success. The athlete

must have the winning mindset and this transcends to wins on the court.A winning mindset is what determines success in all aspects of life. A winning mindset along with physical training, practice of techniques and strategy, healthy meals and good rest makes a great sportsman.
F&S: What is your vision to further improve Wheelchair Tennis in 2018?
Colonel Abeysekera: We will develop some courts in the North Central part of the country along with the Northern Peninsular. Already the SLTA has put up three hard courts in Batticaloa and with these new infrastructure, differently abled athletes will be facilitated under district coordinators. In the meantime the SLTA is also focusing on the national pool at the main venue with adequate facilities along with further training from the foreign coach Mr. Aad Zawan who was the coach of former World Team Cup Champions.

SLTA invites all differently abled persons to play this great game and change their career & their lives for the better. The SLTA will provide all the facilities free of charge. Please contact Sri Lanka Tennis Association: 5337161 or contact myself Colonel Shiran Abeysekera : 0777 896 872.