Bishan Lawrence cuts an intimidating figure; bulging muscles, tattooed and bearded. He also does not say too much when you first meet him. Still waters run deep is apt to describe him. Bish has an iron will that has helped him surpass a very nasty vehicle accident where doctors said he would never walk again. Not only is Bish walking he is also running, lifting heavy weights and living his life to the fullest. Here is what Bish has to say.
Fitness & Sports: What is the role fitness plays in your life?
Bishan Lawrence: For me, fitness & life are one. I find the skills that are acquired from exercising, whether it be from playing a sport, lifting weights or exercising in general, translate to other areas of your life. It could even be spending good quality time with family, work, studies, walking your dog etc. Time management is an essential discipline that you get from being committed to your daily training regimen. Time management enables you to fulfill all the roles you play in life and be the best you can be. For me fitness is not about just getting a workout to stay healthy, it does play a much bigger role. Fitness for me is about overall wellbeing and its benefits are immense. Like most kids I grew up participating in school athletics at St. Joseph's College. From the age of about 10, I participated in events such as running, long jump, high jump, relays etc. I developed a passion for fitness & sports from a very early age and the passion just keeps getting stronger.
F&S: After your road accident you were immobilized for about a year, how did you get back on your feet on your life's journey?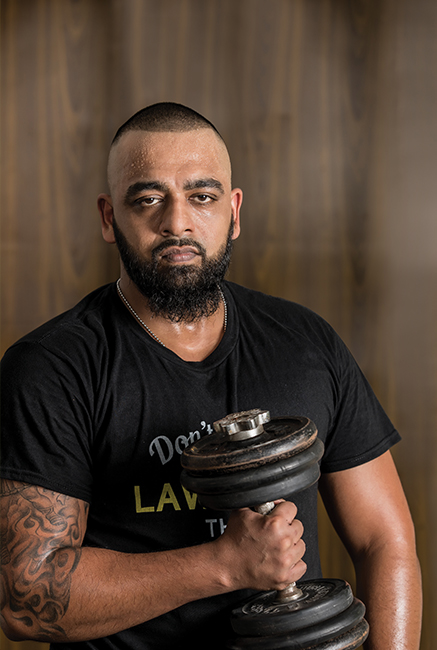 BL: The road accident happened in August 1995 at a time in my life where I had just made friends in my new school the Colombo International School, I had started playing cricket for the school and had my O-Level Examinations coming up the following year. I was determined to get back to normalcy and do the activities that I had been doing prior to the accident. From August to December that year I was bedridden and in hospital. It was a long step by step recovery process both physically as well as mentally. The first step I accomplished was being able to move my toes, which was great and I worked it up from there. With the support of my teachers, friends and family I got through the initial challenge of the whole hospital phase.
In December, close upon Christmas, I was discharged from hospital and went home with a half cast. After having a full cast I was overjoyed to have a cast below my knee as I had more mobility. My cast did not stop my brother and me from playing cricket in the garage. I sat on a chair with my leg on a little humpty and I was throwing the ball for my brother to bat. A few weeks later I got the confidence to hop on one leg without putting weight on my injured leg and face a few balls. To be able to do this was great fun for me. I didn't realise it then but what I was doing was getting my body conditioned. I was slowly starting to move and get active.
In February 1996 I went back to school and sat for my O Levels and I resumed playing cricket in my backyard. In June 1997 I had to have another operation to take out the plate from my leg. After another 4 to 5 months I finally returned to playing cricket for my school.
F&S: Describe the cricket you played in Australia along with your fitness routine?
BL: I did my undergraduate studies in Sydney. I went for net sessions and played recreational and social cricket at university. I also played for a Sri Lankan cricket club in the university called Serendib. It was when I was 24 and moved to Melbourne to do my Masters that I was able to play competitive cricket. I played both A Grade and B Grade First 11 club cricket for the Monash University Cricket Club.
F&S: How have your training routines evolved in the last few years?
BL: Initially, I wanted to be fit, strong and athletic in order to improve my performance in cricket. When I was 16, I began hitting the gym not really knowing what I was doing. I lifted weights with the aim of improving my cricket. I lifted weights and worked out by myself with no proper guidance. I had a few copies of muscle magazines (Fitness & Sports was not available then) and would look at the those big bodybuilders and their workouts. I did about 2 or 3 sessions a week. When I was 17 or 18 I started lifting weights more seriously. I would train with my friend throughout the week after my A-Levels.
In my early 20's at university I lifted weights to build my body and to gain strength along with helping me to play better cricket. I continued my weight training in the capacity of being a better cricketer. 2012 was my last cricket season in Australia and in my last game I injured my back.
After moving back to Sri Lanka I started doing weights with more interest and I played recreational cricket. I had a friend who was a personal trainer and a physio therapist at the time. He had the basic equipment in his house so I used to go over there and train with him. It was primarily core strengthening and rehab work with a lot of body weight exercises. My goal changed from training primarily for cricket to training for muscular definition.
I reconnected with an old school friend in 2014 who just happened to call me and asked me to join him for a workout at the gym. We trained old school, lifting as much weight as we could and pushed each other on. We started doing the compound lifts like the bench press, squat, deadlifts, pull ups, leg press and we were pushing some decent weight on the bar. I got a different response after lifting heavy weights. I became addicted to the weights and I would even lift twice a day with whoever I could find to train with. This came at the cost of injury. I started developing
pain in my neck, shoulder, elbows after 3 to 4 months of this continuous hard training. My training frequency dropped because it took longer for me to recover from the soreness and niggling pains. I then realized that I had to train differently to make it sustainable as well as achieve the gains.
After getting back-pains I sought medical advice. Almost all the doctors I saw along with the physiotherapists and chiropractors said that I should not be lifting heavy weights. However I continued to lift through the injuries keeping the weights light. I used light weights and worked around my injuries with whatever movements I could do. My father intervened and decided to show me to an orthopedic surgeon who said that I needed surgery as my spine was touching a nerve and that was causing my injury. What I did then was call my physio friend and told him what the doctor had said. I told him that I wanted to have a month of physio to get my back right as I did not want surgery.
I then began a quest to look for this one person who would give me the stamp of approval to weight train. When I looked online all it said was that with my back condition I should not be training with weights or I will hurt my back or be paralyzed. I was very fortunate to find two powerlifting doctors on the internet who recommend squatting, deadlifting, overhead pressing, bench pressing for your back, shoulder or any form of musculoskeletal issue you may
have. I started to understand more about the idea of pain and pain science. Credit goes to these two young powerlifting medical doctors in their 20's or early 30's. They are official powerlifters and they have their credentials on paper. They are Dr. Jordan Feigenbaum and Dr. Austin Baraki. They are from the USA and reside in Los Angeles California. There is so much to learn about pain and understanding its origin which is helping me manage my pain and not let it deter me from living the best life possible and achieving my goals every day. I found some good programmes from their websites that worked for me. This does not mean that I may not get another injury but I am better equipped to manage it and continue training and achieving my strength and muscle gains. I threw out all the discouraging information the other previous doctors had given out of my head and started following the advice from these two doctors and that is how I am training now and I am just loving it. According to these doctors, weight training is good for everybody irrespective of your age, gender, physical ability, whether you have any illness, lifting weights is good for you! There are numerous health and mental benefits from lifting weights. There are no excuses for you not to train. I have set up my own workout space at home complete with all the weights I need and this is suiting me just fine.
F&S : Describe your diet for the training you are doing?
BL: My protein comes from animal protein and protein shakes I drink three times a day. My carbohydrates come from bread, rice, fruits and vegetables. I generally keep my diet simple and I eat 5 meals a day at 3 hour intervals.
F&S : What are your goals for the future?
BL: I want to help people get stronger and live better. It can be anybody irrespective of their age, physical ability or whatever health condition they may have, I want to get them under the barbell and change their lives for the better. Lifting weights is more mental because once you believe in yourself that you can push or pull that barbell it is then about just going through the motions. Just like in life.
F&S: Who do you wish to appreciate who has been there for you and supported you and helped you become the man you are today?
BL: I first thank the Lord, then my parents and my brother. My life partner Cherene along with all my dogs. There are multiple inputs of involvement from many people in my life. I am also very fortunate to have a close bunch of friends who have been by my side through good times and bad. Everybody may have a lot of people around them but to have people who are sincere and truly care, now that is a blessing.