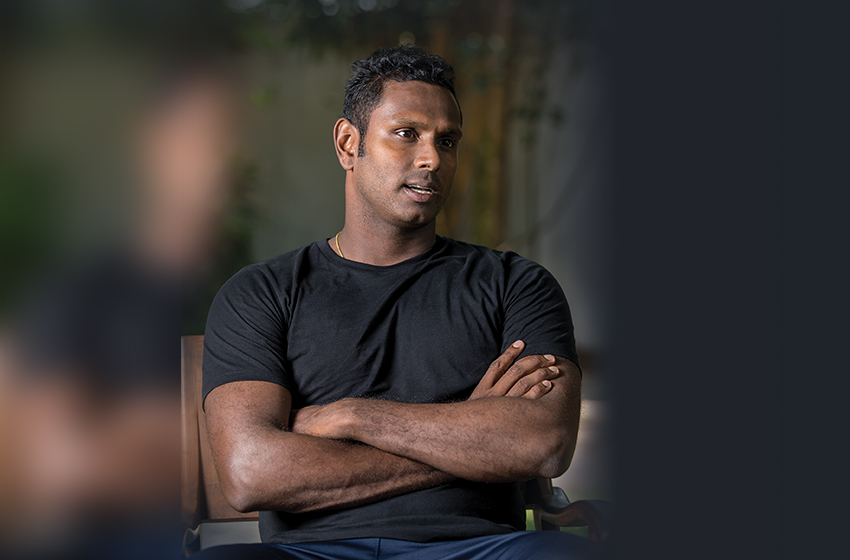 It is uncommon to find a young man who has achieved so much in his chosen field, shouldered the hopes and aspirations of his country to be so approachable and down to earth. Angelo Mathews is such a man. Angelo became Sri Lanka's youngest ever test captain in February 2013 at the age of 25. Leading our team to a landmark series victory against the English in their own backyard. Angelo achieved a herculean feat of 160 runs of 249 balls in the second match of this series. In 2013 he became the One Day International (ODI) captain. He was a member of the Sri Lanka team that won the T20 World Championship in 2014. Angelo has proven his mettle as a dependable batsman, coming to the rescue during difficult times to help save the day. He is a captain who leads by example with a cool temperament in the face of adversity. Fitness & Sports is proud to have as our main feature for this volume, our Cricket Captain Angelo Davis Mathews. Currently he is recovering from an Injury but rest assured he will be back in the park, fitter, stronger and bolder than ever. Here is what Anjelo has to say…
Fitness & Sports: When did cricket become part of your life?
Angelo Mathews: I come from a very strong cricketing background. My brother played cricket for St. Joseph's college and my father also played cricket for his school Badulla Uva College. Initially I started by doing athletics for college but because my family is so into cricket it was only natural for me to take up cricket. That was the choice I made while at college and I believe I have made the right choice.
F&S: Describe your school cricket experience at St. Joseph's College and your proudest moment playing for your school?
AM: It was at college where it all began. I am very thankful and grateful to St. Joseph's College for who I am today. It is all because of my family and my school especially. My college gave me a lot of opportunities to showcase my talent and I am very thankful for that experience. Watching my brother play at the big match made me want to play in the big match. Playing a big match is always a dream come true and I have played five big matches for college. These moments are what I will always cherish as a young cricketer.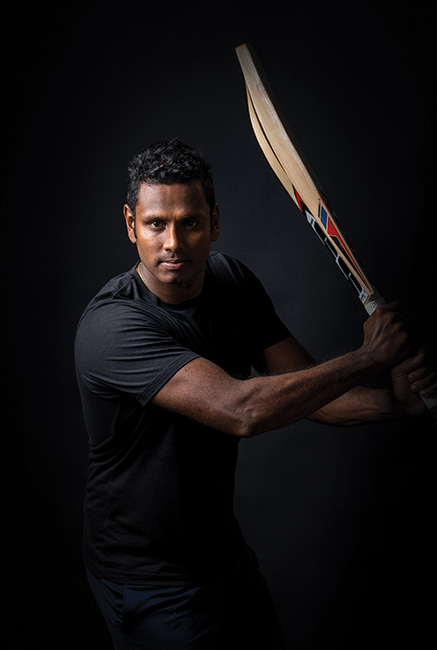 F&S: Your advice for schoolboy cricketers aspiring to make the transition to the national side?
AM: The best advice that I can give to a young schoolboy who is serious about his cricket is to enjoy the game and not to put too much pressure on himself to play for the national team. Just enjoy your game, focus on what you have to do and give one hundred percent. Don't worry about the result. This approach will take you a long way and the results will follow.
F&S: Who are the top bowlers that you have ever faced?
AM: I have faced quite a few very good bowlers. In every team there are few bowlers who are really threatening. As of now I can name Dale Steyn as one of them, Mitchell Johnson is also one of the top bowlers. There a lot of very good bowlers out there who put a lot of pressure on the batsmen but these two individuals stand out as outstanding bowlers and I am fortunate to be able to play against them.
F&S: Who is the cricketer you look up to and why?
AM: As a kid I used to watch every Sri Lanka game and I really admired a few players from the Sri Lanka team. To name a few, Aravinda De Silva, Muttiah Muralitharan, Chaminda Vaas, Sanath Jayasuriya along with Sanga and Mahela as well. Apart from those players, the one I really looked up to was Jacques Kallis. Purely because he was an all-rounder and the effort he has put into his game and the long career that he had is unbelievable. Going by statistics, he is the best ever all-rounder the world has ever seen. He is one amazing character and I am lucky to have played against him. He is one of the players that I have looked up to ever since I was a child.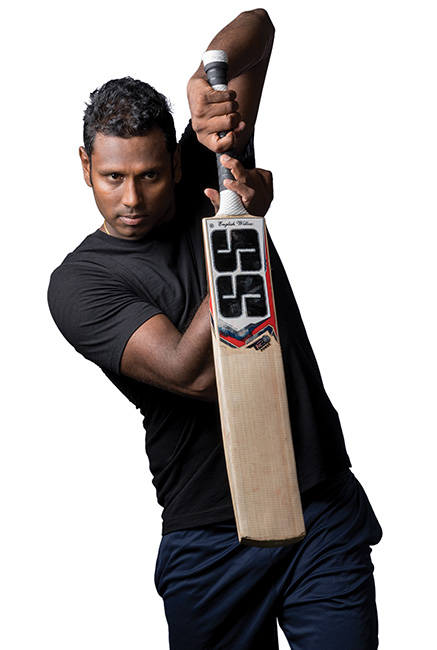 F&S: Your favourite stroke and how it came to be?
AM: My favourite shot is the Pull Shot. No special reason but I really love playing the Pull Shot.
F&S: It is very evident that demands in cricket have increased over the decade, how do you prepare for an upcoming series?
AM: These days with the work load and the amount of cricket that we play it is very tough both mentally and physically. We have to be very well prepared to meet these demands. Skill wise we do all the necessary training. For me, personally I do not like to have any doubts walking into a game. So I prepare to the best of my ability and according to the opponents that I face. I work very closely with the computer analysts and the coaches to see how my opponents will attack me when I am batting and how they will attack me when I am bowling. I really focus a lot on the basics and what the opponents will throw against me. It is important to prepare both individually as well as a team. We study the videos of the teams we are up against. Preparation is a number one priority. When you play a lot of cricket you do get tired and it is very demanding on the body. But we are cricketers and this is our profession and what we love to do. We want to play every single game.
F&S: Where do you derive your resilience and your will to win?
AM: Day in and day out, it is about being consistent. As a player you need to be consistent because that is what the team is looking for in you and as a team we are collectively striving for consistency. We put in consistent hard work as a team and that is what really keeps us going. As a team we want to strive to be the best and trying to be consistent really pushes us day in day out.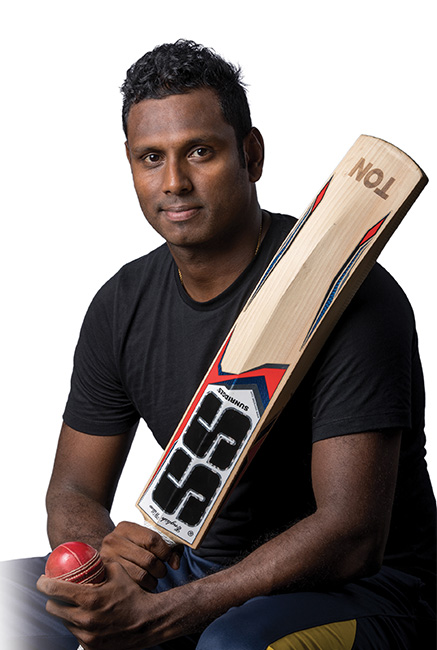 F&S: What are the specific fitness areas you focus on to help you?
AM: Being an all-rounder is not an easy task. You need to be exceptionally fit as your role is extremely demanding. You need to be focused on your endurance training as well as your strength training. We have very specialised coaches in these areas so we work very closely with them. They put us on a training programme to help us meet our individual demands on the field and they guide us throughout the process. Training has to be harder than the game. It is about consistently pushing ourselves to become better.
F&S: From your experience of playing with different international T20 franchises, what are the best fitness routines we can adopt from those countries into our national side?
AM: If you look at franchise cricket or international cricket you see very clearly that it has gone to another level. When it comes to fitness everyone is involved. There is no big difference in the fitness training in franchise cricket and international cricket. A lot of top T20 cricketers evolved recently in the past six to eight years and franchise cricket has come a long way. For me the number one format is test cricket because that is the ultimate. You will see it is the same for most players.
F&S: What is your advice to players to minimize injuries and deal with subsequent injuries?
AM: Well, I am actually dealing with a lot of injuries at the moment and I have spoken to a lot of experts as to why I am getting injured. I had a good four years without injuries where I did not miss a game from 2013 to 2016. The last eight months was big toll on my body and I have been struggling with injuries during this period. The doctors, physios and the

trainers have told me it has to do with the work load. Managing yourself is very important. You should be able to know your body. You should know when you need a rest. However, because we love the sport so much, we want to be involved in every game. If I manage my bowling workload, basically that is what the doctors also say, I should be able to contribute more as a batter going forward. To keep injuries at bay, you need to manage your workload and work closely with the physios, the trainers and the doctors as they know what is best for you and learn to strike a balance.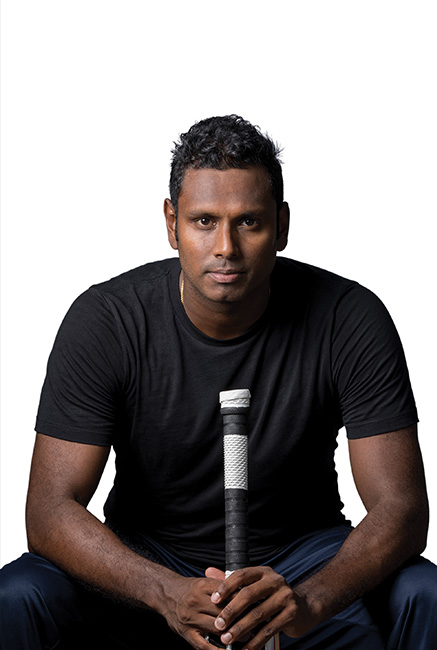 F&S: Cricket is played in 3 different formats, how do you train for each format and how does the body adapt to the different training routines?
AM: Because we play all three formats, we need to train accordingly. With regard to speed, agility and endurance, you need to prepare your body in all these aspects of fitness. If you train your body to cope up with endurance then it is in line with the demands of test cricket. ODI's and T20 cricket involve more speed and agility. Earlier there was a preseason and season but now there really is no preseason because of the amount of cricket that we play, so we have to train constantly to meet the fitness demands of international cricket.
F&S: What is your greatest moment in your career?
AM: I have got a few. Mainly, the 2014 World Cup winning moment was a special moment and always will be "the moment" for me. Winning a World Cup is not easy whether it be an ODI or a Twenty20. In 2014 we had an extremely fantastic run. We made history in England by winning the first ever test series and also winning the Asia Cup along with winning the T20 World Cup. For me being picked for the ICC Test Team of the Year and being appointed as captain for the Test Team of the Year was a glamorous moment for me. Winning the test series against Australia by 3-0 in July 2016, is also a momentous occasion for me.
F&S: What is your greatest challenge as a captain and how do you overcome it?
AM: When you are the captain you are always under pressure and that is something you have to deal with. As the captain you must have the backing of your teammates that is very important. If you don't have the backing of your teammates you would rather step down. I have had the support of my team ever since I received the captaincy, which was a great help for me. I had the support of Kumar Sangakkara, Mahela Jayawardena, Thilan Samaraweera. And even now we have a few experienced players like Lasith Malinga, Rangana Herath and Nuwan Kulasekera so it was very easy for me to take over as the captain because of these experienced players

in the side. At the moment we have a lot of young and upcoming players and we have been in a period of transition for the last one and a half years. However, winning with experienced players is not the challenge, instead nurturing and guiding the younger players in the side and seeing them transform into match winners is the real challenge and is also a very rewarding experience. On the whole, being a captain is always challenging, I have managed to enjoy it so far but whenever I think that I have had enough I will step down.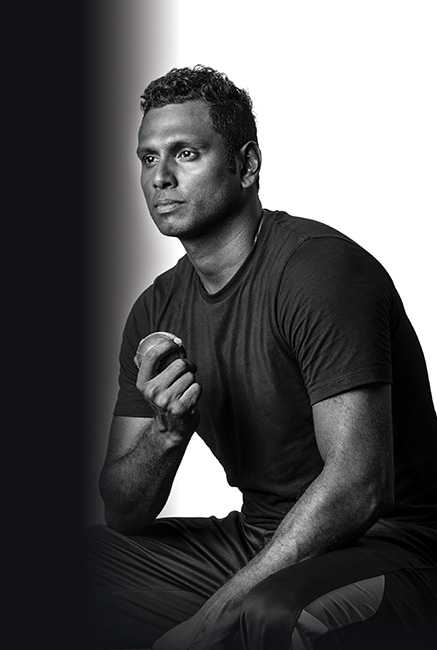 F&S: What are your goals for your team?
AM: As a team we always want to strive to be the best. In the past year or so we have gone down in our rankings so we want to work on that. Our short term goal is the upcoming Champions Trophy and the long term goal is the 2019 ODI World Cup irrespective whether I captain the team or not. We are preparing as a team for the 2019 World Cup. Leading up to the 2019 World Cup we want to take each series at a time and to focus on every game we play.
F&S: Who would you appreciate who have helped you come this far in your cricket career?
AM: I first thank the Almighty. I thank my parents, my wife, all my coaches who have coached and guided me throughout my career, my school, my teachers at school and my friends. All of them have supported me and being there for me during both the ups and the downs and I am very grateful to have them all around me.
F&S: What words of advice do you have for young cricketers?
AM: Don't look too far ahead. Yes, if you want to play for the national team you must have this goal in mind but don't let this pressure you. Don't think you have to go and score a hundred runs or take five wickets, just enjoy your game and focus on what you have to do. The results will follow. Even the greatest players that I have spoken to say that they never get onto the field thinking that they need to score a hundred but they always think about doing their best. If you get a good start capitalise on it. The key things to remember are don't put too much pressure on yourself, stay focused, do your best, enjoy your game and rest assured the results will follow.