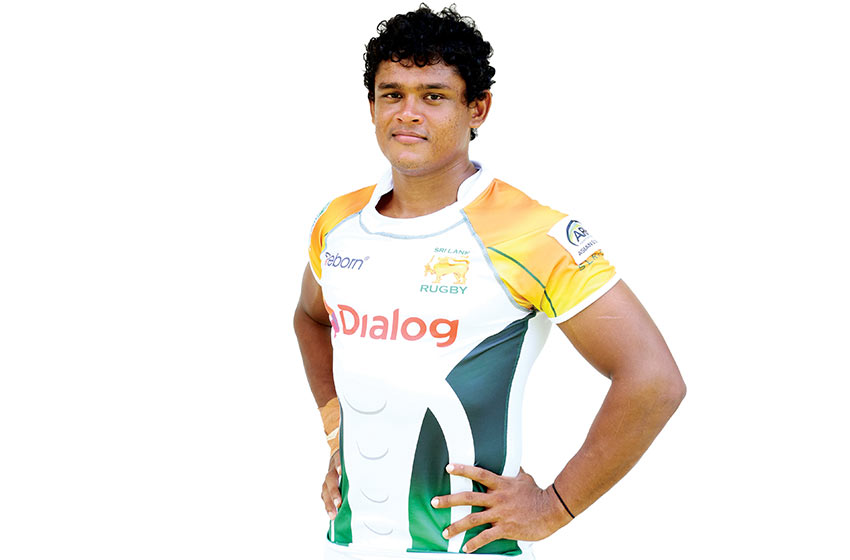 Some of the words that can be used to describe Sudarshana Muthuthanthri on the rugby field. Off the field Sudarshana is a gentleman. He is respectful, kind and has a good sense of humour. Sudarshana, who is 25 years old, has accomplished much in his rugby career. He began his rugby playing for his Alma Mater, S. Thomas'College Mount Lavinia at the age of 17 years, playing the position of flanker. Before he began to play rugby, Sudarshana was a basketball player and continued basketball alongside rugby, winning colours in both sports for his school. Even during his school days, he was a very hardy player who always gave 100% in every game. After his schooling Sudarshana joined the Havelock Sports Club and was Vice Captain when he helped the "Park Club" win the Dialog League in 2012. Sudarshana went on to Captain the Havelock's Sports Club the following two seasons. Under his captaincy the Havies were placed 3rd in the League in 2013 and were League Runners up in 2014.

Sudarshana Muthuthanthri represents the national side in both the 15's and 7's formats of the game. He always gives nothing less than his best, making every tackle count and with the oval ball tucked under his left arm dashing through the opposition like a cannonball. Sudarshana took the helm of the Sri Lanka Rugby 7's team in 2015 for the first leg of the Asian Sevens Series in China where we (Sri Lanka) were placed 4th, and he was appointed as the Captain of the Sri Lanka Rugby 15's team for the 2016 Asian Rugby championship held in Malaysia where Sri Lanka was placed 2nd . Sudarshana was appointed the Sri Lanka Captain for the 7's Team at the Monacco Rugby Sevens which is the qualifier for the Rio Olympics Rugby Tournament. Despite Sri Lanka not qualifying for the 2016 Olympics, the experience of playing with the other teams will serve as a good learning curve for the future.

The rugby experience that Sudarshana has accumulated in his career along with his sheer ferocity and commitment makes him a force to be reckoned with, and a valuable asset for the Sri Lanka Rugby Team. Fitness & Sports is proud to have this talented, disciplined, dedicated young gentleman to grace the cover page of Volume IV. Much can be expected from this young man, here is what he has to say….
F&S: How did you come to play rugby and how did you end up playing the flanker and number 8 position?
Sudarshana Muthuthanthri: I started out at school in the U-18 team as a wing three quarter for one year and shifted to play flanker in my last year for the College 1st XV. I really like the position in the third row because it has a lot more involvement in the game, there is a lot of work that can be done in this position than staying out on the wing. There is also a high work rate involved and the energy that you bring into the team from the third row is very rewarding. I played both the flanker and number 8 positions and still continue to alternate between these two positions.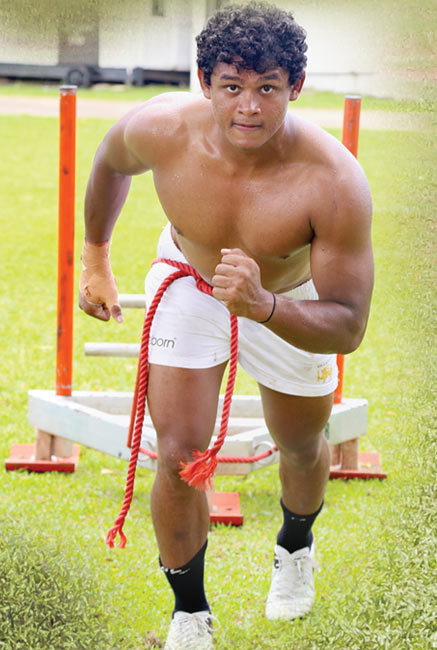 F&S: How big is the difference in the standard of school rugby and club rugby and what did you do in order to make that transition?
SM: In school rugby if you are strong and fast you will survive the school structure. If you're a big boy, and can run fast and tackle hard, you will be a good rugby player at school. When it comes to club rugby there is more structure in place with game plans and defense plans, where you have to play according to structure.
The biggest change from school rugby to club rugby that I faced was the structure and the strength levels. In school rugby you're playing against other boys but in club rugby you're playing against men. So the fitness, strength levels and the size of the other players in club rugby are also one of the biggest differences. I had to get accustomed to the structure of club rugby and up my fitness and strength levels in order to be competitive at the club level.
F&S: You're a very hardy player who gives 100% on the field, what motivates you?
SM: I think that everyone has a reason on why they play rugby. For me, why I play rugby is because I like to get on the field with my friends and represent my country, family, school (not forgetting the place where I started rugby), and my teammates whom I consider as family.
F&S: Where does the power come from for you to make those hard hitting tackles?
SM: The power comes firstly from God and then from the training that I do on the field, the gym sessions, and diet. There is a lot of hard work that needs to be put in during the off season that will help during the season when it matters the most.
F&S: Do you prefer a particular format of rugby or you enjoy both in equal measure?
SM: 15's is a longer version of the game and there is a lot of strategy and tactics involved in playing the sport.
7's is a shorter version of the game and those 14 minutes go by really fast. You have to be really fit to enjoy 7's. The two styles of game play are totally different.
I would say that I like the 15's game a lot because I enjoy playing in an environment which involves a lot of physicality and tactics. Even though I do enjoy both forms of the game I would say that 15's has a special place in my heart.
F&S: Which international rugby player do you look up to?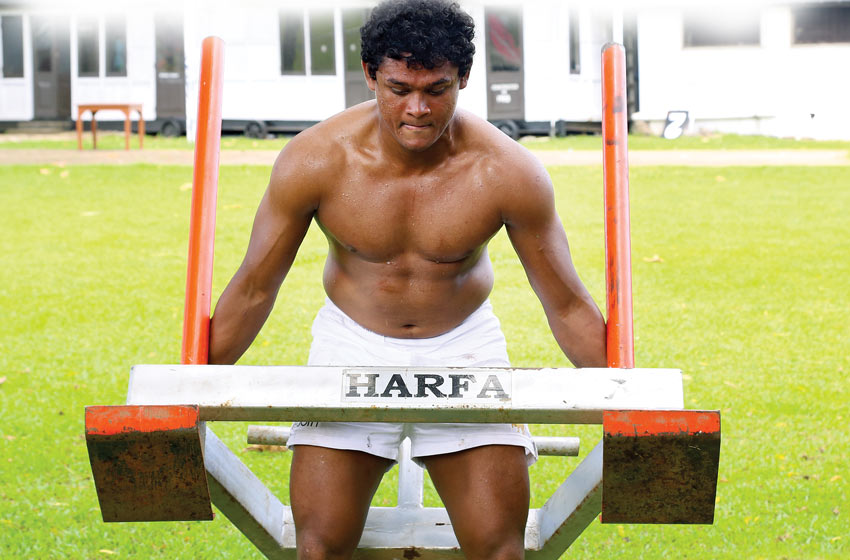 SM: In the 15's game there are a few players that I look up to in my position. Number 1 would be Richie McCaw, the former All Black twice World Cup winning captain(2011, 2015) and who is also the most capped test rugby player of all time. There is a lot to be learnt from him as a player and as a human being.
He is an inspiration to many ruggerites around the world and also to me.
The second international player that I look up to is Australian Rugby Union player David Pocock who plays flanker and number 8 as well. Much can be learnt from him especially how he returned to the game after a serious injury and played in the World Cup final in 2015.
F&S: What are you favourite strength training exercises?
SM: I like my back squats, my bench presses, my deadlifts, the power cleans and the rest of the power endurance exercises.
Best exercises for 1 rep max:
Squat: 210 kg (462lbs.)
Bench Press: 135 kg (297lbs.)
Deadlift: 235 kg (517 lbs.)
F&S: Describe your gym routine?
SM: During the off season (2 to 4 months prior to the season) we look to bulking up and improving our strengths levels so we do strength exercises such as bench presses, deadlifts, squats and all the big compound exercises for high repetitions to build muscle mass. We do 4 to 5 sets of 6 to 8 repetitions per exercise.
During the season we look to cutting down the repetitions and loading up the bar more. We aim to do 3 to 4 sets of 3 to 4 reps. We focus on achieving a high level of intensity in our training. The exercises do not vary much; we add more weight to the bar and do them in a more explosive manner.
F&S: Describe your daily diet (including supplementation)?
SM: Breakfast is cereal and milk. I take multivitamins to help my immune system.
Lunch is usually rice, potatoes, manioc (compound carbohydrates), proteins come from either chicken, beef or eggs cooked in a curry. Sometimes I have two protein sources for lunch.
Pre training snack is a banana or a yoghurt to give me a small energy boost.
After practice I take my whey protein supplement for muscle growth.
Dinner is protein and vegetables. At home the protein is either grilled or baked.
F&S: What are your goals both on and off the rugby field?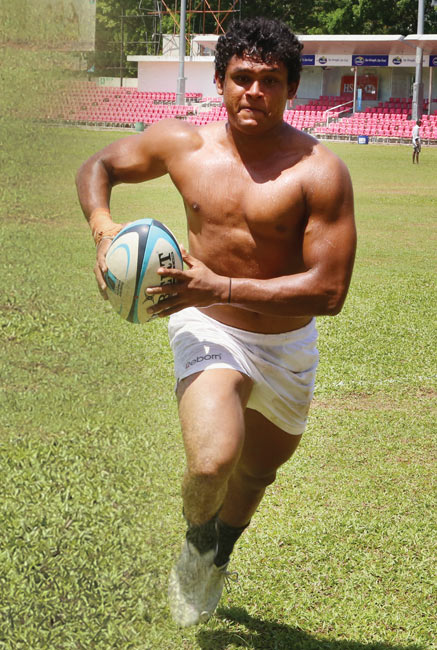 SM: Off the field I want to be the best possible person I can be and to be disciplined in all aspects of my life so I can give my best performance on the field.My daily training goals in the gym would be to increase my strength levels, muscle mass etc. On the rugby field I aim to get better on the technicalities so that I keep improving as a player to give my best performance for my country and club that will bring pride to my family and teammates.
Right now I am studying accounting and finance and looking to finish my education in another 2 years. This is a goal I have for my life.
In rugby I achieved my goal of captaining Sri Lanka and I am looking forward to winning the Asian 7's Series, representing Sri Lanka in the Olympics, and to win the Hong Kong 7's.
F&S: Which Asian countries give us (Sri Lanka) the toughest challenge and what should we do to counter them and be successful?
SM: Playing against Japan and Hong Kong have been really tough for us the past two to three years. It is not because they have more talent than us. In fact our guys are faster and more skilled than them in every aspect of the game. However we are at a disadvantage as we do not have the facilities that these countries provide. Their training programmes are similar to the rugby programmes of top tier nations like New Zealand, South Africa, Argentina, and Australia. Also, most of their players are full time rugby players and they get looked after all 12 months of the year. They also have separate squads for 15's and 7's. In Sri Lanka most of our guys play both formats of the game. Some rugby players would like to specialize on only one format of the game as they may be better suited to a particular format of rugby and this would certainly better our performances in both 15's and 7's rugby.
F&S: How important is mind power in rugby?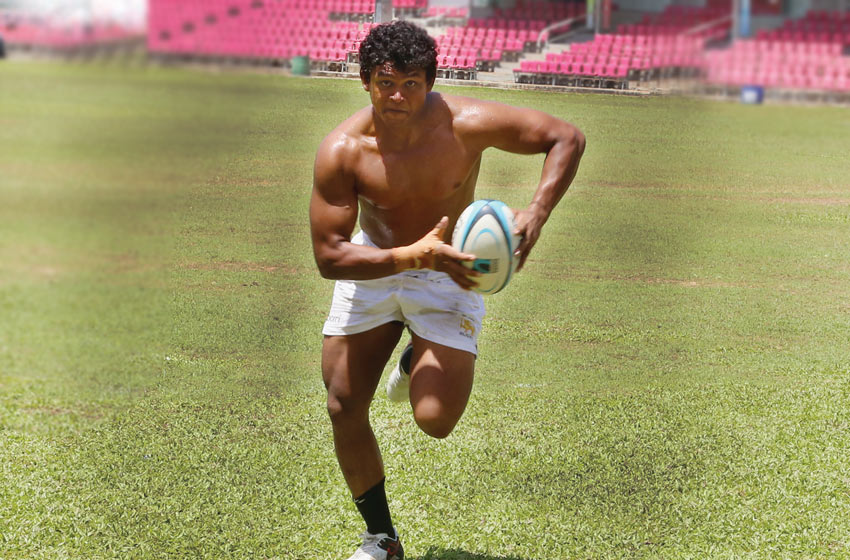 SM: The mind is the most important thing. The tougher you are in the mental aspects of things the better you will be as a rugby player on the pitch. Everything starts from the mind. It does not matter how well you have trained or how good your diet has been if your mind is not focused 100% during the game. You must have good mental preparation leading towards your game.
F&S: What special qualities catch your eye in a girl?
SM: The girls' physical appearance forms the first impression because you don't know the girl. Later on as you get to know her better her values and her personality becomes more attractive than her physical appearance.
F&S: Who do you wish to thank who have supported you and who continue to encourage you in your rugby career?
SM: I thank God first. Everything is possible when God is on your side. My family has supported me right throughout. Their belief in me helps push me forward. My friends from my school days played a major role by encouraging me to play rugby. Also, my coaches and trainers from my younger days who helped make me the player I am today.
F&S: What words of advice will you offer the school ruggerites?
SM: I would say always aim to be better than what you are today. If you played well today think about on what you can improve for your next game. Always try to improve yourself as an overall athlete. Be humble in what you do and respect others around you and those who have helped you along the way. Always listen to the opinions of others and figure out what is right for you and not right for you. Work hard towards achieving your goal. Having a goal when you are young in school will help you achieve it in the future.