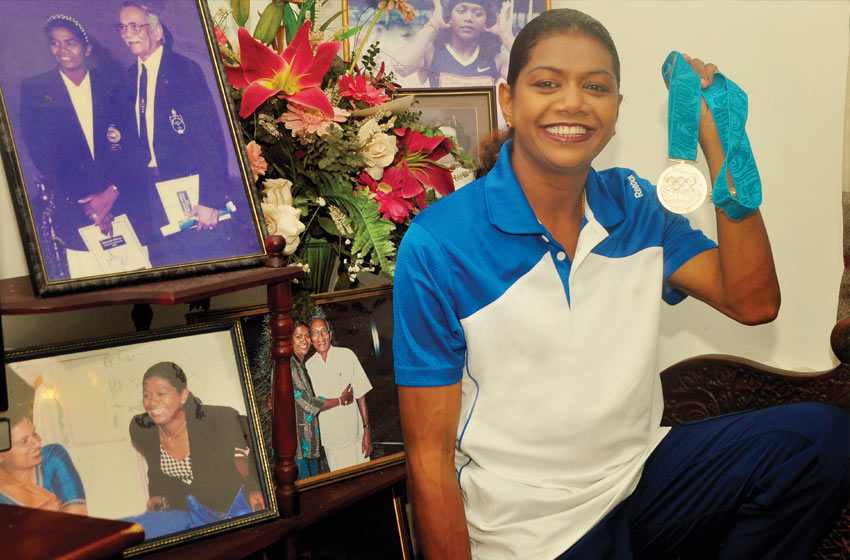 Susanthika Jayasinghe is the only Sri Lankan, after Duncan White in 1948, to have won an Olympic Medal. This she achieved by winning the Silver Medal in the women's 200 meters event at the Sydney Olympic Games in the year 2000. Susanthika has accomplished great feats on the track and has put Sri Lanka in the limelight in the Olympic Arena. She is a lady from a humble background who rose to sporting glory. Fitness & Sports is proud to present our Sprint Queen Susanthika Jayasinghe to inspire our readers to reach for the stars.
F&S: Could you tell us about where you are from and about your family
SJ: I am the youngest in my family. I have 3 elder sisters and 1 elder brother. I come from a village in the Kegalle District in the Sabaragamuwa Province, 70 km from Colombo. It is a beautiful village surrounded by mostly rubber and tea. My mother is a housewife and my father was a driver. We lived a simple and peaceful life.
F&S: Why did you take up sprinting and how old were you?
SJ: I was a very playful child. I ran everywhere. When my mother sent me to the boutique, I ran there. My playmates were mainly boys, with whom I played cricket, climbed trees, and played ellé. As a child I experienced the full beauty of village life. There was a lake in my village called Attanagalla Oya where we used to swim. The children of today do not have time to truly enjoy their childhood with all the tuition classes they attend. At the school sports meet I took part in track and field events to collect points for my house. My primary education was at Uduwaka Kanitu Vidyala (Uduwaka Junior School), and thereafter at Athnawala Vidyala (Athnawala College).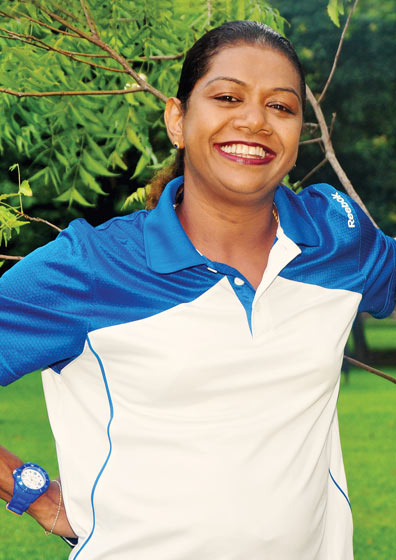 I first came to Colombo in 1990, and it was then that I started going for athletic practices at the Torrington Grounds. Ms. Dammika Wanigasinghe, a sports officer in Warakapola, brought me to Colombo after noticing my talent. My first coach was Mr Dervin Perera and January 6th, 1990 was my first day of practice when I was 16 years old. Today I am on the board of Directors of the National Institute of Sports Science, and it was Ms. Dammika Wannigasinghe who selected me for this role.
F&S: When you were a young sprinter did you ever dream of Olympic Glory?
SJ: Even after winning the Sri Lankan Nationals, I did not have the dream of winning an Olympic Medal. However after I won the South Asian Games and the Asian Games I felt that I would win a medal at the Olympics.
F&S: When you were a school girl, where did you train, and what were your methods?
SJ: I trained 5 days a week. 3 days of track training and 2 days of gym training.
F&S: What are the key factors that you would attribute to your success and who were the people who supported you in your journey?
SJ: I wanted to compete in the 100m and 200m events. I was determined to win these two events. After I won the Nationals I targeted the South Asian Games. After I won the South Asian Games I targeted the Olympics. I went step by step. From my Childhood I always had an aim to succeed in whatever I did. This determination came from my heart. I have achieved my dreams through determination and the sacrifices I have made because of my Buddhist beliefs. There are so many people who have supported me. My special thanks go to my parents, my coaches Mr. Dervin Perera and Mr.Tony Campbell from the USA. I cannot mention all the names of the people who have supported me because there are so many, and I do not want to accidentally leave any name out. I am very grateful to all of them.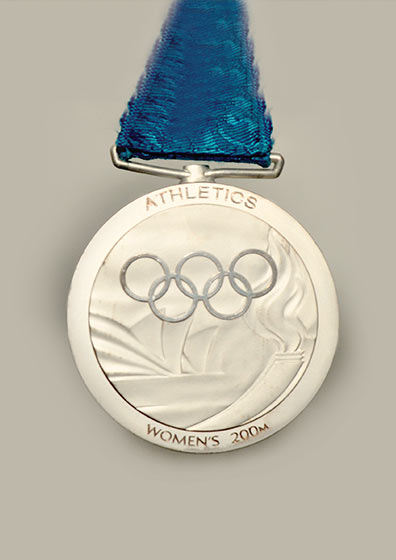 I won the World Championships under Mr. Dervin Perera. After that I went to the USA and trained under Mr. Tony Campbell. I won three more international medals including the Olympic Silver Medal.
F&S: Did the training you underwent in the USA play a significant role in your success in the 2000 Sydney Olympics?
SJ: Sri Lankan training and American training methods are very different. American training is very advanced in both track and in the gym. American workouts are very strenuous. In the US I trained once a day along with the proper nutritional intake. In Sri Lanka I trained twice a day but the training was not as strenuous as the training in America. Also the nutritional intake in Sri Lanka is not as good as in America where training and calorie intake are closely monitored systematically.
F&S: What is the kind of mental condition required of an athlete to perform and achieve at the highest levels in the international field?
SJ: To achieve anything in life you need to have a strong mind. If our minds are strong then we can achieve anything we want. A strong mind is a person's greatest strength. Susanthika Jayasinghe is a person who can do anything if she sets her mind to it. In my life I have never retreated from any problem. That is why I was able to win an Olympic Medal. If someone hits my mind with a steel bar the steel bar will bend, not my mind.
F&S: How important are nutrition and physical training to the sprinter?
SJ: Good food, vitamins and proper training are very important for any athlete, along with good equipment, medical treatment and accommodation.
F&S: In the 2000 Sydney Olympics how did you feel at the start of the race, and your feelings right after?
SJ: I had a strong feeling that I would win this race. My coach Mr. Tony Campbell told me that I would win a medal at this race. He did not specify the medal but he was confident that I would win an Olympic Medal. Before the race, my parents and the whole of Sri Lanka blessed me and wished for me to win a medal. Because I was blessed by everybody, and with my hard, dedicated training, I had the confidence of winning. Right after I won the race I wanted to be in Sri Lanka immediately to share my joy with all my supporters and well-wishers.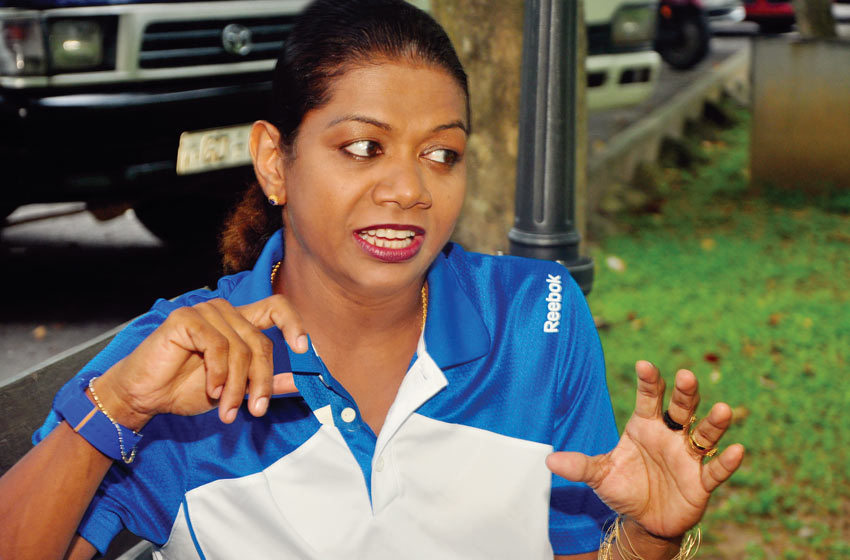 When my Bronze Medal was upgraded to a Silver Medal many Sri Lankans were not aware because this was not highlighted. However, I wish to mention that former President Mr. Mahinda Rajapakse honoured my Olympic Silver Medal and I am grateful to him.
F&S: Do you see potential for another Olympic Medal in Sri Lanka? And how do you believe that can be achieved?
SJ: This is my dream for Sri Lanka to win another Olympic Medal. That is why I am going to start the Susanthika Jayasinghe Academy to achieve this. After the young athletes train in my academy there will be definitely an Olympic Gold Medalist in the future. I will give my fullest support to this goal.
F&S: What should be the roles of the Ministry of Sports, The National Sports Associations and the National Olympic Committee in sports promotion in the country? How important is funding?
SJ: There is need to implement a proper system in the Sri Lankan sports bodies. Without a proper system in place we cannot move forward. We first need to put in a good system and move forward step by step.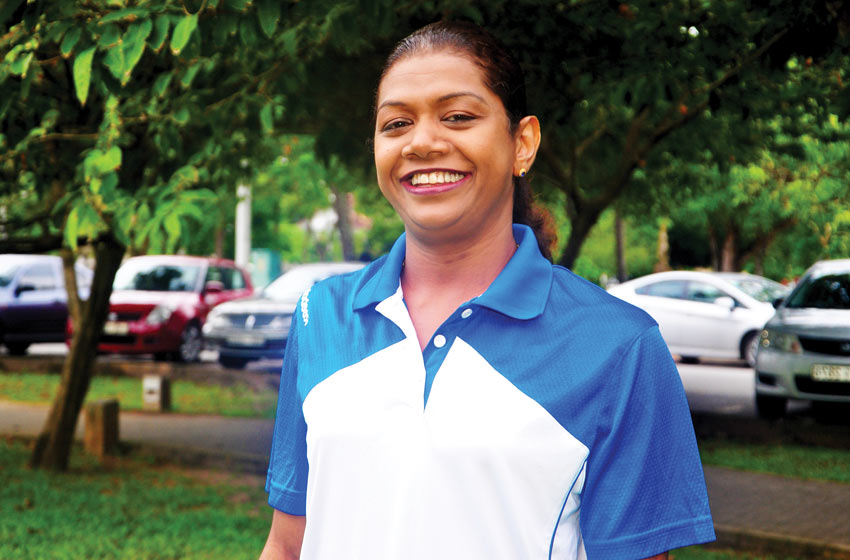 To succeed we must first have good grounds, good food, good accommodation for the athletes etc. Funding is vital to ensure there are good facilities for the athletes to achieve at the highest levels.
F&S: You are an Olympic Silver Medalist, the only Sri Lankan after Duncan White to achieve this monumental feat, bringing pride to the Motherland. What are your plans now?
SJ: I want to create a proper system to train athletes and give them good facilities so they can succeed; at the Susanthika Jayasinghe Academy. I want to improve sports development and in turn contribute to its overall development by bringing glory to the Motherland. To achieve this, I need the support of all political parties and the corporate sector. I request everybody to support this dream.
F&S: Any words of advice to the young aspiring sprinters of Sri Lanka?
SJ: Always believe you can succeed. Think "I can do it". Nothing is impossible. Believe in yourself and go for your goals.