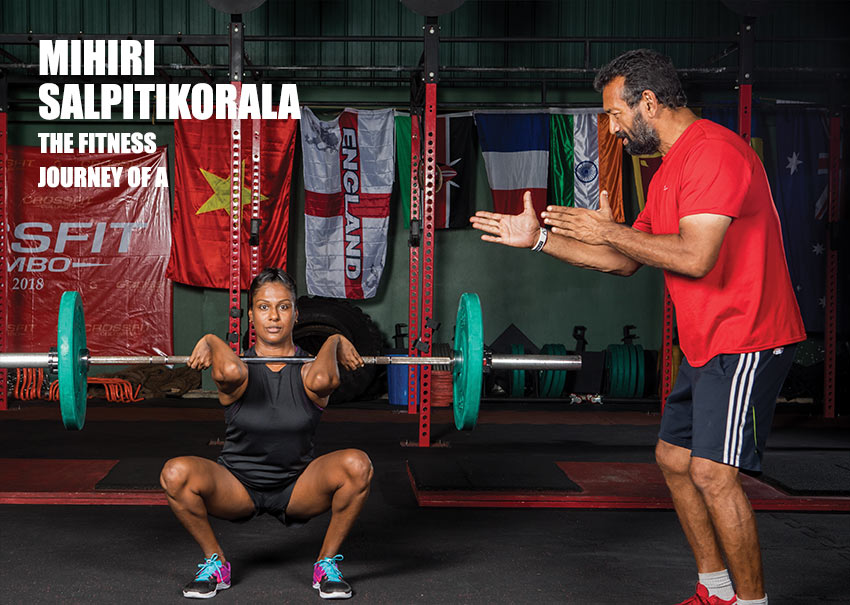 The Fitness Journey Of A Multifaceted Lady
Mihiri is a wife, a mother of two kids, a qualified marketer and a hardcore fitness enthusiast. She has the fire to meet any challenge that life throws in her way. Her dedication and commitment to training has held her in good stead in life and she keeps getting stronger. Mihiri shares her fitness journey which will inspire more ladies to get fitter and stronger and win at life.
The Journey Begins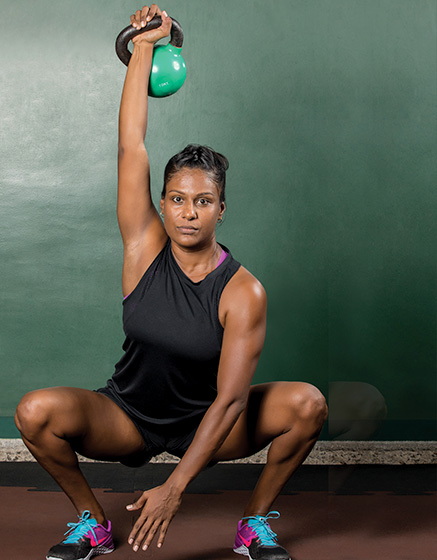 My love for sports and training began when I was at school in St. Bridget's Convent Colombo. I was into track and field (sprints and jumps), swimming, water ballet and water polo. I pursued my higher studies in Singapore and here I kept a regime of exercise as this came naturally to me. I swam and did my workouts by myself in the park (I could not afford a gym membership being a student).
Adopting New Fitness Routines
Upon returning to Sri Lanka I joined my first proper gym. They also had the first circuit classes in Colombo. I trained with people from different age groups and this was a learning experience for me. I used to hold my planks for 2-3 minutes alongside a lady who was 25 years older than me (she held her planks for longer!). Then I met Eli from Entertrainers. I went for her classes and she asked me if I wanted to do her Trainer Course. After completing the course I became part of her first batch of trainers. Some of the best times I've had were when I was conducting dance fit classes with my buddy Candice who is an awesome personal trainer to this day. I am certified in Zumba, Boxfit, Dance Fit and a few other exercise routines.
The Love For Crossfit
I conducted classes till my daughter was born in 2014. After taking a two and a half month maternal break I returned back to conducting classes. It was Entertrainers that rekindled my love for fitness and gave me the satisfaction of helping others to get fit. Throughout both my pregnancies I worked out moderately while consulting my doctor, of course. After my son was born in 2015, I found it harder to get back to my normal level of fitness. It was tougher than after my first child. It was during this time that I discovered Crossfit which I fell in love with. Crossfit challenges me both physically and mentally. The diverse mix of people from different age groups help me to push myself to continuously try to achieve my best. The 1 hour I spend inside the crossfit box (3 to 4 times per week) gives me the much needed "my time" which I believe is essential for any person to function better so we can keep our family unit functioning better.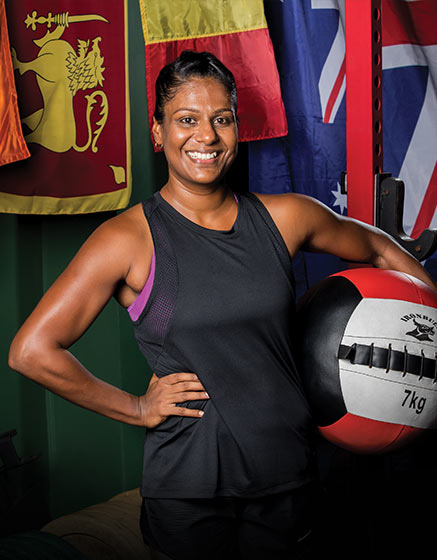 When I see the daily challenges of the Workout Of the Day (WOD) on the white board I think to myself if I can complete it in time and when I finally complete the workout I feel stronger than ever. For me now training is not about looking thinner or getting into those jeans any more. It's really about the next level of fitness I can achieve for MYSELF. It is about being stronger for myself so that I can be strong for my family and those around me. When I first looked at the climbing rope I thought, "if I could only do that". And a few nasty friction burns later, I was actually climbing it to the top. I am still only very much a beginner at Crossfit. I am encouraged by my friends in the sport who I train with, mothers, grandfathers, young athletes, people of all shapes, sizes and ages. All of them very strong in different levels. All of them almost ' Superhuman'! It is amazing to watch them and wanting to improve myself to get closer to their levels of fitness. Hand stand walks, pistol squats, chest to bars, muscle ups, I need to master so many more exercises. And the weights of course. I need to carefully and gradually increase the weight on my lifts.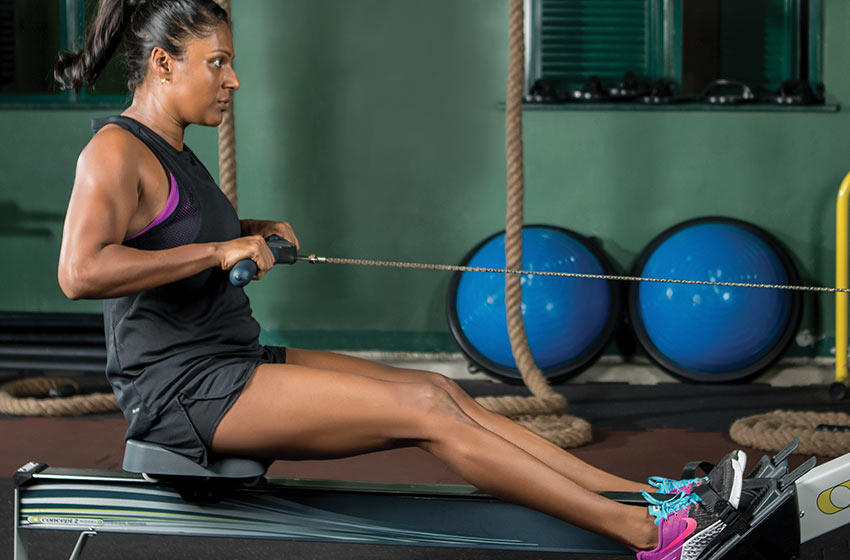 The Fitness Revolution In Sri Lanka
There are so many Sri Lankans who are now getting into fitness than ever before, and this is truly a great thing. Now we also see many personal trainers training people from all ages and social backgrounds. I think this is fantastic! This will motivate so many others to join the fitness journey. I follow these fitness professionals on Instagram. I hope we all continue to encourage more people to adopt the fitness lifestyle and encourage their children to embrace it as well. Age Is Nothing But A Number I was doing the WOD next to two 15 year old boys who were encouraging me by saying "Come on Aunty"! I burst out laughing and then realized that I am an Aunty even if I don't feel like one! I ended up finishing the workout before them. The lady who trains besides me lifts way more than I do and she is 53! This shows that age is only a number inside the Crossfit box. This holds true in life as well.
People Who Have And Continue To Encourage Me
Mr. Mothilal Jayatilake has taught me the sport of Crossfit and constantly encourages me to increase my strength and levels of fitness while ensuring that I maintain proper technique at all times. This is important in injury prevention. The energy inside our Crossfit box is filled with support, care and motivation. My friends, both old and new, the Crossfit Family, we push each other to be fitter and stronger in every workout. This truly helps all of us achieve our best. My husband comes from a sports background having represented Sri Lanka in rugby. He understands the language I talk in terms of workouts, weights, timings etc. He constantly encourages and appreciates my dedication to fitness. We would love to see our kids grow to be active adults and enjoy the benefits of an active and healthy lifestyle.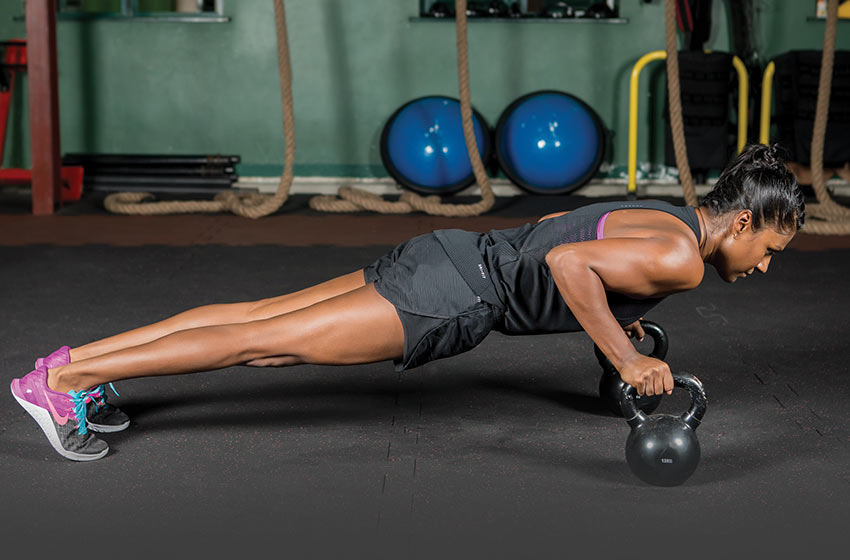 Goals For The Future
The fitness arena is evolving as we speak. I started with Zumba, Circuits, Boxfit and now I am into Crossfit. I am excited and I can't wait to see what new fitness models will evolve in the years to come. Competing in Crossfit competitions seems a dream that may seem unachievable in this lifetime.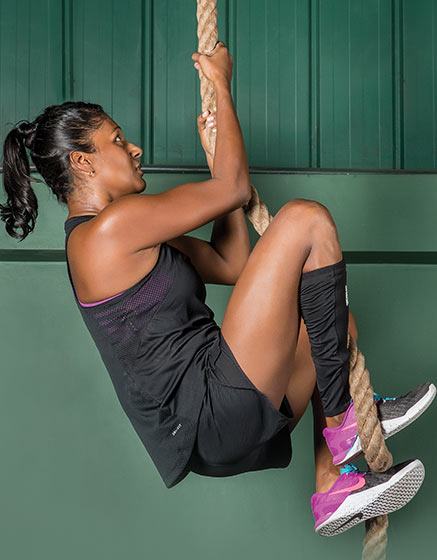 But to reach that high standard of fitness is something that I will definitely continue to work towards. Besides my fitness life I work part time and I am involved in an organization called Child Protection Force that works with children in contact with the justice system; a project to make the system more child friendly for child victims. I believe that the decision to lead an active lifestyle, to start the fitness journey and maintain it, in whatever capacity you can, it is YOUR choice. Fitness doesn't differentiate. A mother, single, age 50+ or a teen, it is not relevant. Be strong and healthy for YOURSELF!