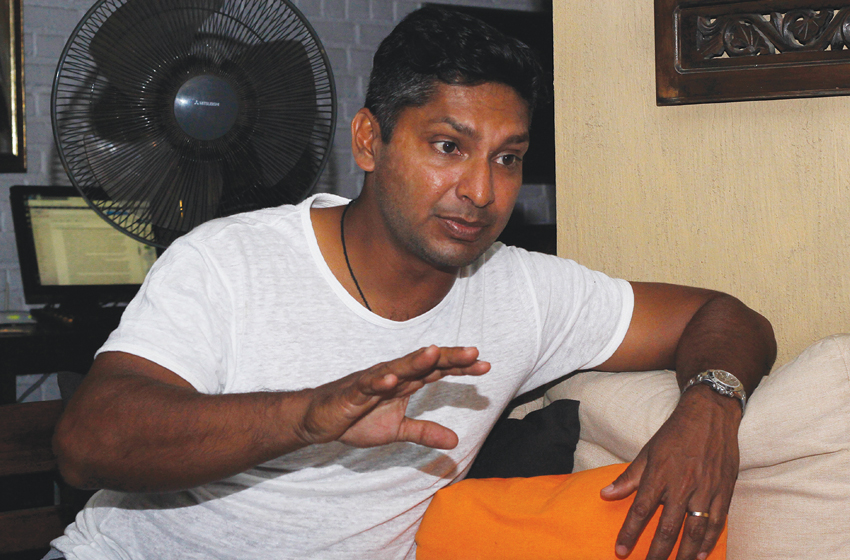 Kumar Sangakkara is considered to be one of the greatest cricketers of all time. He has dominated the ICC Test Batting Rankings for over a decade along with AB de Villiers and currently is number 1 in the ICC Test Rankings.Kumar is the first cricketer to score 150 + runs in four consecutive Test Matches and is the only batsman in history to score four consecutive centuries in ODI matches which he achieved in the recent 2015 ICC Cricket World Cup. Described as "the most polished and prudent batsman" in cricket, Kumar is also a polished and articulate speaker. He was the youngest person and the first active international player to deliver the MCC Spirit of Cricket Cowdrey Lecture in 2011. His honest and articulate speech won him much praise from the cricketing community as well as from those outside of cricket who happened to hear it. Kumar was named as the Leading Cricketer in the World in 2015 in the Wisden Cricketers' Almanac.
Kumar Sangakkara is a husband, father, renowned cricketer and a gentleman. Fitness & Sports hopes you find the interview with him informative and inspiring.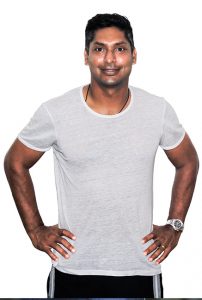 Fitness & Sports: What led you to pick up the bat and play cricket? And how old were you?
Kumar: I played cricket at home with my siblings along with badminton, tennis, table tennis and swimming. I have played sports since my childhood. When I was 16 years old I focused on cricket and gave up the other sports. I had represented my school Trinity College in these other sports along with cricket at different age groups.
The reason I chose cricket was because it was a team sport, a lot of fun and my friends all played cricket. As the cricket season was long, more time was needed to focus on cricket which meant I had to give up the other sports.
F&S: When you were a school boy cricketer, what were your goals?
Kumar: To play in the big match and to win school colours were my long term goals. The short term goals were to score the runs needed to get colours and win games. This was the driving force of not only myself but also my team.
In 1996 after we won the World Cup I wanted to play for the country. Our world cup win revolutionized the face of cricket and it inspired me. Any player should want to play for the country but should not expect to play. As a 19 year old school boy I had represented Sri Lanka in the U-19 age group against India. At this stage I felt I was not up to the same standard as my other team mates.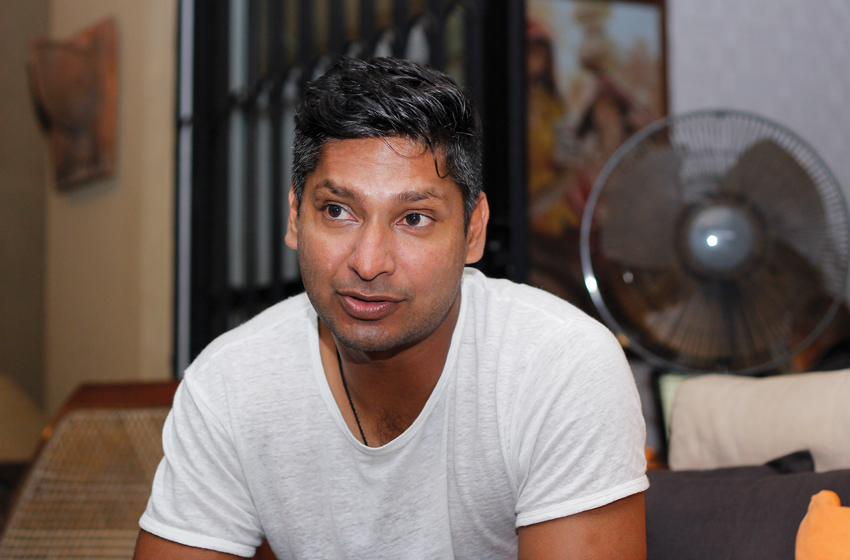 F&S : Who has been your biggest source of inspiration on and off the field?
Kumar: My parents, siblings, wife, kids and various coaches along the way have all helped me come to where I am today.
F&S: When you were a schoolboy cricketer, what was your most memorable occasion?
Kumar: When I was chosen to play for the Big Match (Kandy Battle of The Blues). In my first Big Match I scored a half century.
F&S: What is your favourite format of cricket and why?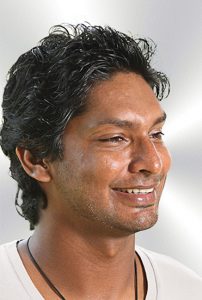 Kumar: Test Cricket because this format of cricket challenges you mentally, physically and technically. There is no harder challenge in cricket than playing with such intensity for five days.
F&S: You are a multi-faceted individual who has played many sports, studied law, considered to be one of the greatest batsmen ever to grace the game and a devoted husband and father, how were you able to achieve all this and be the man you are today?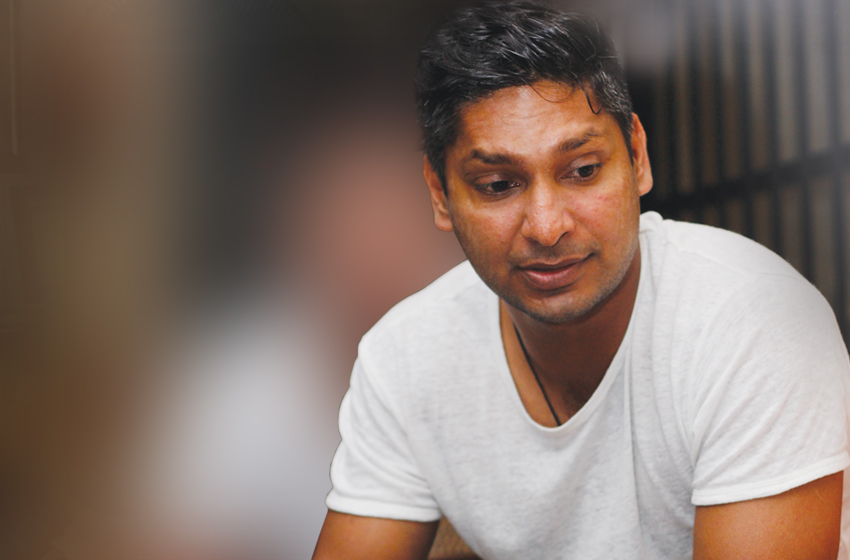 Kumar: Balance is what you should constantly strive for in life. I am very lucky to have an understanding and supportive family. Cricket has always been in the forefront of my life. As you grow older your mindset changes and you prioritize as a result you forego other things. I value most deeply the time I have at home with my family. I have retired from ODI and soon I will retire from Test Cricket so I can spend more quality time with my family.
F&S: Being an active sportsman from a very young age, did fitness and working out play a role in your training or was it just practicing the sport that made you fit for matches?

 
Kumar: Until I got into the national cricket system we used to formulate our own fitness regime. We played touch rugby and trained in other sports to keep fit. In my time at school, the gym was used by rugby players and not by cricketers. I started going to the gym as part of the training routine when I got into the A side. From then onwards I developed a holistic view on fitness.
F&S: You hit boundaries with such ease and you are performing extremely well even as you get older how would you explain this?
Kumar: In cricket a lot of skill and timing is involved. Hitting boundaries is not about brute strength, it is about timing, placement and touch. However strength does play an important role but it should not inhibit your flexibility and balance. The fitness and strength work that I have done does help. It is important to always strike a balance. Being at peak physical and mental condition is what we should strive for.
F&S: Do you lift (weights)?
Kumar: I lift weights as part of my training schedule, however I do not lift a huge amount of weights. My bat weighs around 2 lbs and 12 ounces so swinging that incorporates strength.
Individual gym sessions are done during the off season and during the season it is more structured group sessions. Exercises are customized to the individual's needs and to suite their position. We have a mix of heavy sessions, power sessions and endurance sessions. No two sessions are the same. During the season it is about fitness maintenance sessions and rehab sessions.
F&S: How would you say, cricket has evolved from your first international debut to the sport today?
Kumar: Athletic ability has increased, the rules have changed, players have become more skilled and strength and fitness plays an important role now. The game has improved and it keeps improving. All positives on how the game continues to evolve.
F&S: What are your suggestions to take Sri Lanka Cricket into the future?
Kumar: We need to structure our system for the top players to further challenge them to become better. The feeder system has to become fine-tuned and of a higher quality. We need to have higher standards for fitness in selection. The existing facilities need to be further improved. There needs to be less teams playing in the tournaments for the top players in the 19-25 age category to ensure a greater focus on the game and to further drive the players.
F&S: What methods would you propose to identify talent at a young age so our young boys can be groomed to reach their potential?
Kumar: It is very important to have a centre of excellence with good talent scouts and a good coaching structure.
F&S: How has the discipline of being a professional sportsman helped you in your personal life?
Kumar: It has helped me in decision making, given me patience, helped me deal with both success and failure and given me a perspective on life. Time spent away from the sport also helps you play the sport better. It is very important to distinguish between playing the sport and your time away from it.
F&S: Now, what are your goals in cricket and in life?
Kumar: To play a few more test matches and have a few victories. Spend time with my family and have a positive impact on those around me as well.
F&S: What words of advice would you like to offer the young cricketers of Sri Lanka who look up to you that would also inspire them to stay motivated in cricket?
Kumar: Be secure and confident in themselves. Talent without hard work and the right plan is of no avail. Develop your talent into ability.